Events
The Economics Society of Northern Alberta's events help to elevate the discourse surrounding economics in our province. Email info@esna.ca if you have a suggestion for an event or a speaker.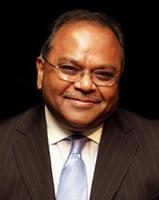 Satya Brata Das, May 17, 2017
Mr. Das' topic is entitled Trade in the Age of Trump.Topic Summary: Big walls and closed minds aren't the disaster they seem. Free trade and open borders are still our best option; we need unconventional alliances and unaccustomed leadership to sustain the Canadian way.
Past Speakers
Don Iveson
Mayor of Edmonton
Honourable Doug Horner
President of the Treasury Board and Minister of Finance, Government of Alberta
Carolyn Wilkins
Senior Deputy Governor of the Bank of Canada
Kevin Page
Parliamentary Budget Officer, Government of Canada
Leo de Bever
Chief Executive Officer, AIMCo
Todd Hirsch
Chief Economist, ATB Financial