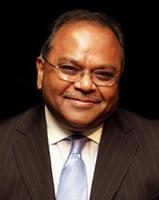 Satya Brata Das, May 17, 2017
Mr. Das' topic is entitled Trade in the Age of Trump.Topic Summary: Big walls and closed minds aren't the disaster they seem. Free trade and open borders are still our best option; we need unconventional alliances and unaccustomed leadership to sustain the Canadian way.
The Economics Society of Northern Alberta is a non-profit and non-partisan organization working to promote public awareness and understanding of economics in Alberta, as well as provide scholarships in economics at the undergraduate and graduate levels. Learn more about ESNA.
Our members have experience, training or simply an interest in the field of economics, and share a desire to expand the discussion and learn more about this important field. They also receive discounts on our monthly events and annual conference. Become an ESNA Member