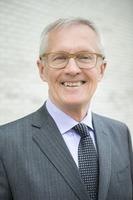 Mr. Hilliard MacBeth, March 8, 2017
Mr. MacBeth is the Director of Wealth Management and Portfolio Manager with Richardson GMP Limited and heads the MacBeth Investment Management Group, a team of five professionals....Mr. MacBeth's latest book "When the Bubble Bursts: Surviving the Canadian Real Estate Crash" describes the Canadian housing bubble, the reasons why a serious correction is inevitable and provides strategies to help Canadians survive the coming disruption. The topic for this event is...
The Economics Society of Northern Alberta is a non-profit and non-partisan organization working to promote public awareness and understanding of economics in Alberta, as well as provide scholarships in economics at the undergraduate and graduate levels. Learn more about ESNA.
Our members have experience, training or simply an interest in the field of economics, and share a desire to expand the discussion and learn more about this important field. They also receive discounts on our monthly events and annual conference. Become an ESNA Member